A young Nigerian girl working as a church videographer recently received a surprise marriage proposal from her boyfriend.
She was recording the pastor as he gave a sermon from the pulpit when the guy discreetly approached her from behind and knelt down.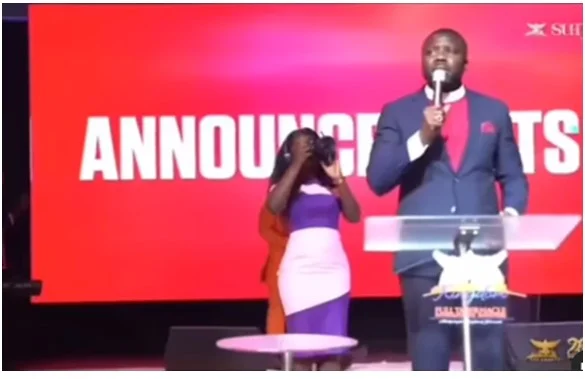 The lady quickly stopped what she was doing when she turned sideways and spotted her lover, and the church service was also suspended.
She turned to leave the scene but another lady swiftly dragged her back and congratulated her.
The lady immediately collapsed to the floor, basking in the euphoria of her man's proposal of marriage.
The assembly erupted in loud cheers and happiness upon the arrival of the latest engaged couple.
Watch the video;
In other news, a Nigerian woman has taken to the microblogging platform, Twitter, to share her beautiful love story.
The woman who recently tied the knot with her lover after dating for 10 years revealed how they met, became friends, and got married on a relationship group on Twitter.
According to her, she met her husband in 2012 in her 200-level university class, but they didn't get along at first because she thought he was proud.
She said they were classmates, and with time, they became friends, and she realized she was wrong about him.
They got so close that they started going to the mosque together, as they were the only Muslims in their class.
She noted that they started off as platonic friends; however, they both later realized that they had feelings for each other, so they started a relationship and are now husband and wife.
Read their full story here.