US President Joe Biden on Monday walked alongside Ukrainian president Volodimir Zelensky on the streets of Kyiv after he became the first sitting American president to visit an active warzone without presence of active US Military personnel.
Biden came under a cloak of secrecy into a war zone to demonstrate what he called America's "unwavering support" of the effort to beat back Russian forces nearly a year after they invaded the country.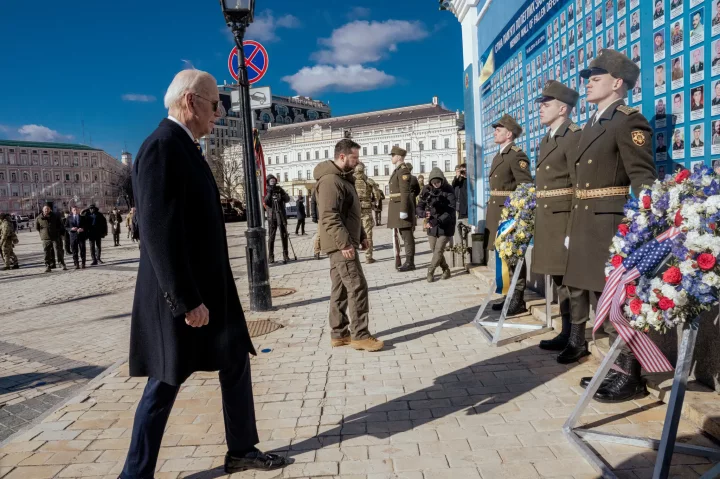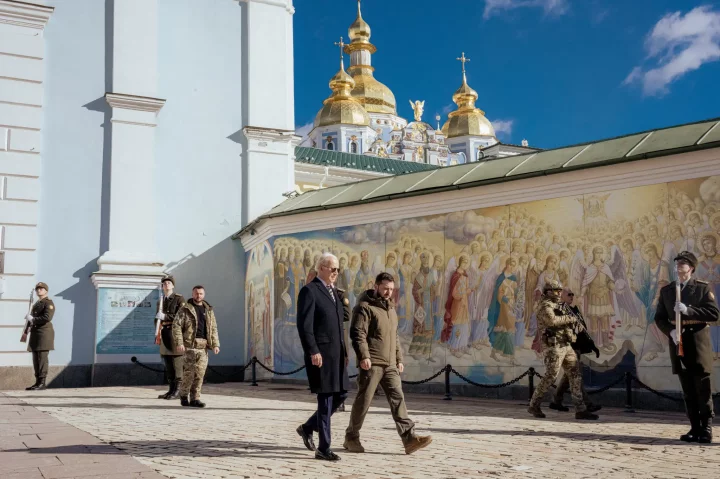 Biden arrived early Monday February 20, to meet with President Volodymyr Zelensky, and the two stepped out into the streets of Kyiv even as an air-raid siren sounded, a dramatic moment captured on video that underscored the investment the United States has made in Ukraine's independence.
Biden joined Zelensky for a visit to St. Michael's monastery in downtown Kyiv, where the sun glittered off the golden domes as the air-raid alarm wailed. Trailing two soldiers bearing a wreath, the two leaders walked along the Wall of Remembrance, where portraits are on display of more than 4,500 soldiers who have died since Russia illegally annexed Crimea in 2014 and first fomented a rebellion in eastern Ukraine.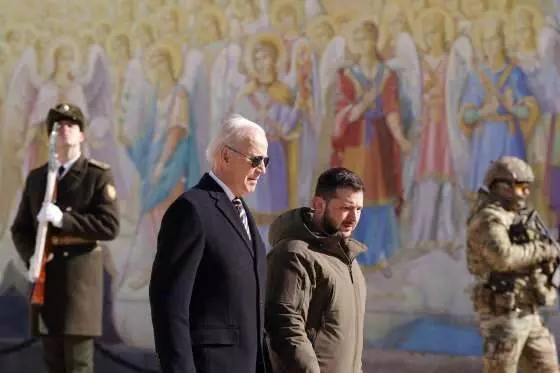 The air-raid alarm had stopped by the time Mr. Biden got back into his motorcade and departed the monastery. The alarms sound almost daily in Kyiv, but the blare of the siren added to the bristling tension of the moment.
The alarm on Monday morning was triggered by a Russian MIG fighter jet taking off in Belarus, which borders Ukraine to the north. A missile from a MIG fired from Belarus can hit a target in Kyiv in under 20 minutes.
According to the New York Times, Biden left Washington in midnight without notice. Air Force One took off at 4:15 a.m. on Sunday East Coast time. Just a few reporters sworn to secrecy and deprived of their telephones were brought with him, along with Jake Sullivan, the president's national security adviser; Jen O'Malley Dillon, his deputy chief of staff; and Annie Tomasini, the director of Oval Office operations.
Watch videos below