A Nigerian woman has shocked netizens with her revelation on how she accidentally got married to a man who had earlier gotten married to her cousin.
According to her, she met and got married to him in America and was unaware that he had previously been married to her relative.
Everything went haywire when her family members told her about the man's marriage status after she posted their wedding pictures on social media.
She wrote;
"The man I married in America was married to my cousin in Ibadan. I posted our wedding pictures and 2 days after, 40 phone calls came in from home. They are divorced, but they want me to leave him".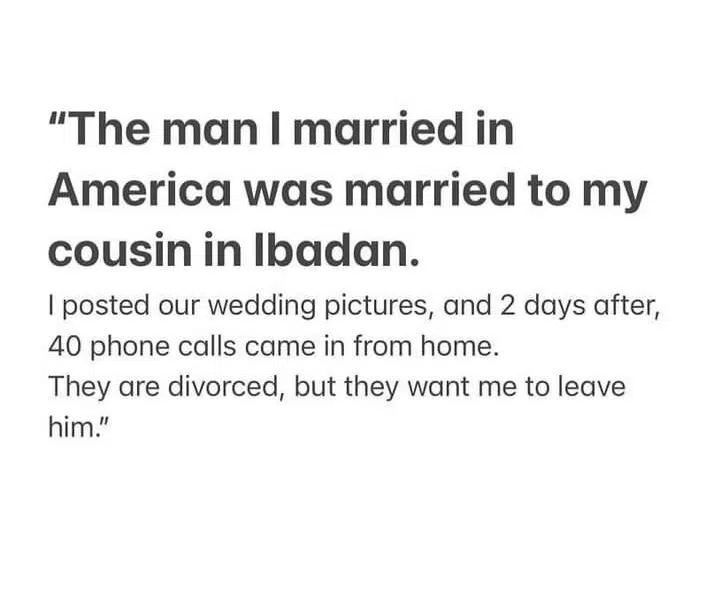 Reacting to the post, Princess_of_nigeria_ commented: "So your family didn't know your Husband to be until you married him and posted his pictures before they knew it's the same man? This story is not storying well o. bi na secret marriage you do?"
flodoskii wrote; "Cousin in Ibadan ke? My question will be first cousin or like 59th cousin. For Nigeria everybody be cousins 0, as far as my mama know your mama!"
gylliananthonette wrote; "Because they didn't work out, doesn't mean you guys won't work out …that might be your soul mate …if he loves and want you and as much as you do…Go ahead with the marriage."
ckay_abii wrote; "They are divorced "yes", it's good to leave think of quitting but then if he loves you truly and insists you be with him, my dear God knows best. Sit in your marriage and be happy. Also try to trade through your family in good conduct to let them know it wasn't a deliberate act to take your sisters man and stay happy with your family. I think it will aid the writer well."